Since being founded in 2013, PLVG has received numerous awards and plaudits from industry experts and clients. PLVG has been recommended by The Legal 500 Asia Pacific in several practice areas in its 2016, 2017, 2018, 2019, 2020, and 2021 editions.
Besides being known for our legal work, PLVG also has a reputation of being an excellent place to work and learn. But don't just take our word for it — come and experience it for yourself. We actively seek individuals whose attitude, character, and intelligence set them out from the rest. In return for expecting the members of our firm to share our commitment to quality client service, we place importance on teamwork, personal career development, and work-life balance.
We genuinely believe that our firm culture is unique, and provides a platform for people to build successful, fulfilling careers.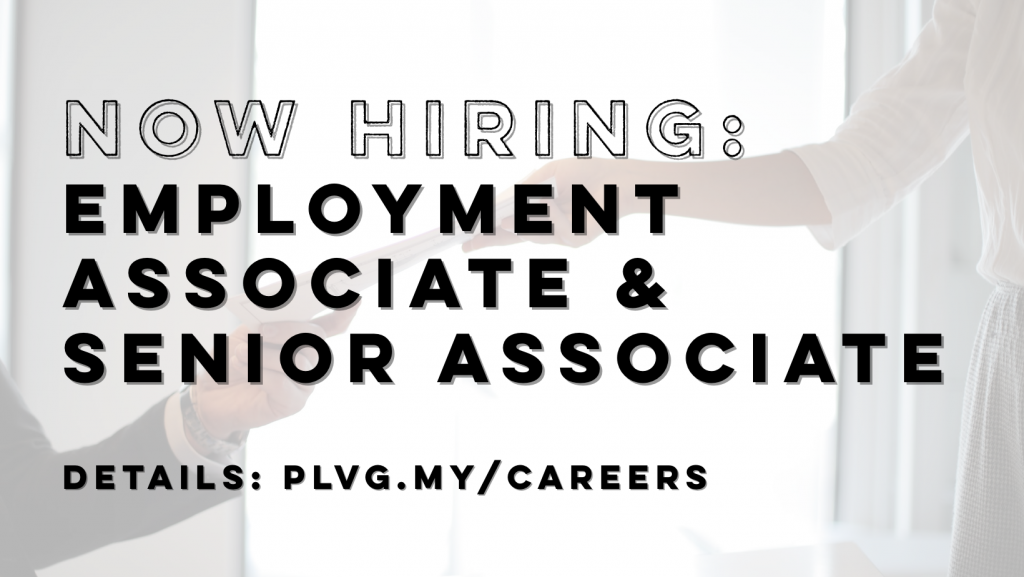 Employment Associate & Senior Associate
We are now hiring for an Associate and a Senior Associate for our employment law advisory team.
Some further details and requirements:
PQE 0-5. Ideally with employment law experience, otherwise with the ability and determination to learn quickly.
Option for flexible working arrangements (mix of office and remote, or fully remote) to fit your career and lifestyle preferences.
Our employer-clients are some of the world's top companies, including many in the Fortune Global 500.
We go beyond industry norms to provide high-quality legal services, and our clients expect the best. Clients describe our employment team as a highly-responsive team that consistently provides commercial, practical, business-friendly advice. Applicants must be able to adopt the mindset of delivering legal advice that goes beyond traditional lawyering.
If you think you would be a good fit for the team, please submit an application via email to [email protected]. Your application must include the following:
> A writeup (minimum 350 words) explaining why you are a good fit for the employment practice at PLVG.
> Details of any relevant employment practice experience.
> Your expected salary.
> Your available start date.
We expect to receive a high number of applications, and will only respond to candidates who have been shortlisted. The hiring process will involve at least two rounds of interviews.
Other vacancies
We are not currently actively hiring for any other positions. However, we are always open to taking on talented and driven applicants. Whether you're interested in a position as an intern, pupil, associate, or other member of staff, you are welcome to submit your application via email at [email protected].
It is important that applicants have a desire to work specifically for this firm. Generic applications will not be entertained.
Each application must include the following documents in PDF format:
Detailed CV.
A cover letter which includes answers to the following questions:
Why are you applying to PLVG? (minimum 200 words)
Why are you a good fit for PLVG? (minimum 200 words)
What are some of your interests or passions outside the law? (minimum 200 words)
Please understand that we receive a very high volume of applications, and we will only respond to candidates who have been shortlisted.